Practical information
Find the answers to all your practical questions about Nordfyns Højskole
We have gathered a bunch of different information on this page, but should anything be missing, or if you have a question we have not answered, please feel free to reach out to us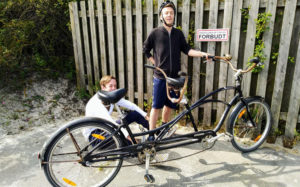 Practical information
All you need to know before your stay at Nordfyns Højskole
FAQ
Find the answers to some of the most frequently asked questions
Hvis ikke du finder svarene på dine spørgsmål her, så er du altid velkommen til at ringe eller skrive en mail
How many subjects should I choose?
When you sign up, you must choose an A and a B subject. These will be your 'major' subjects during your high school stay. It is possible to change your subjects along the way, for us the most important thing is that you use your team here, in the subject you are most passionate about. (However, it requires that there is a spot available in the subject you would like to switch to.) When you choose from home, it is so that we can be sure that we have a place on the teams you sign up for. In addition to the main subjects, you also have elective subjects or C and D subjects, which you choose when you get to the school.
See all of our subjects
How old are the students at Nordfyns Højskole?
As with everything else at Nordfyns Højskole, the diversity in the students' age is very great. You can start the semester where you turn 18 and we basically have no age limit. However, most students are in their early to mid 20's.
How many students attend Nordfyns Højskole?
Nordfyns Højskole is considered a small Folk High School, typically between 65 and 85 students attend the school.
How many people will I share room with?
At the folk high school, you usually live with one roomie. We also have rooms where you stay with two others. In some cases, it may be arranged that you live alone, but there you need to contact the office and talk to them. You live in a room with people of the same sex, but in hallways with all sexes
Find the contact information for Babak here
What should I bring?
You should consider Nordfyns Højskole as your home during your stay. Therefore, you need to have a little of everything with you, so you can get ready for everyday life and parties in all kinds of weather. In Denmark we go out in all weather so bring rainwear and waterproof footwear. Before you start, we will send you a letter with practical information. You can check your passport and be sure that it is valid if you are going on a study trip or volunteering with WorldCampNordfyn
.
Where is the closest city?
Nordfyns Højskole  is located about 3 kilometers from Bogense, a small town where you will find both supermarkets, farmacy, shopping street and a cosy harbour and beach.
Explore the area
Is there any curriculum or exams?
No, you won't have any given curriculum or have to take any exams. Home work is very minimum and contains to your own projects in classes
Read more about the teaching style
How fluent should I be in English?
As a minimum you have to be able to maintain conversation on an everyday level. Furthermore you should be able to take active part in classes, dialogue and group work. 
What if I'm vegetarian or have other dietary considerations?
Our sweet and skilled kitchen always serves a vegetarian alternative at the meals and if you have other considerations for your diet, then they will also very much like to accommodate them. To make it easier for them, you can write it as a comment on your registration
Should I bring euros?
No, The currency in Denmark is the Danish Krone, and even though you can use euros in some stores, the exchange rate is very bad, and almost all shops in Denmark accept VISA or MasterCard
Is it possible to exchange currency in Bogense
No, you can not exchange money in Bogense, but you can use both VISA and MasterCard in almost all shops in Denmark. There is also an ATM in town.
Do I need a visa?
This depends on where you are from, you can orientate yourself on the official webpage of the Danish Immigration Services or on our site about visa and entry.
Visa and entry
Are things expensive in Denmark?
We have a VAT of 25 %, this means that prices can tend to be higher than other countries