Culture and values
Nordfyns Højskole - a slow world
There is a special atmosphere when you are on the school grounds. We call Nordfyns Højskole a 'slow world', because we value the present moment, in a world characterized by stress, the fear of wasting time and of missing out. One has the opportunity to immerse oneself in conversation, spend time pondering and reflecting, being aware of ourselves, our surroundings and relationships.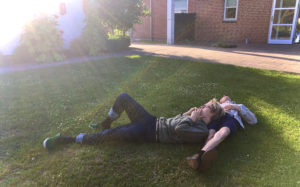 Before I started at Nordfyns Højskole, I was afraid I wouldn't fit in. As soon as I walked through the doors of the school, I was greeted by a group of people who in no way resembled me, but they had these warm, bright smiles on their lips, and I knew instantly that I had come to a safe place. Nordfyns Højskole will always have a special place in my heart, my time here has been one of the happiest periods in my life, due to the opportunities I have been given and the people, I have met.

Mathias Beck Tangaa Andersen
The semester started out much better than I could have hoped for. Everyone was open and accommodating, and our differences only made it easier to find something to talk about. We were people from different continents, cultures, ages, and interests, but most importantly we had come for the community and the experience of folk high school. As the semester went on, there were more and more projects that we students became a bigger and bigger part of. I will never forget all the wonderful people and great togetherness. The experiences along the way have given me much more, than I dared hope for.

My experience at Nordfyns Højskole is the best experience, I have had in my life. It is an experience that has developed me as a person, and which gave me the opportunity to get to know different cultures and new languages better. At Nordfyns Højskole I made friends from different countries, who were there for me in the good and bad times. The teachers and the other staff at Nordfyns Højskole are the nicest people to surround yourself with.
School values
Nordfyns Højskole has a humanistic view of people, where all people, regardless of background, are equal.
We aim to keep a balance between individuality, community, and professionalism, ensuring that each student's unique qualities are not only respected but also nurtured as they engage in various forms of community activities. Within this framework, education and personal development become mutually reinforcing prerequisites. We want to work to ensure that individuality does not turn into self-sufficiency and selfishness. The intention is to support the development of a personal and societal commitment among the students, which makes them aware of and co-responsible for communities in society.
Glocal Responsibility
We are all responsible for taking part in society both locally and globally. We are part of a larger whole and our actions have consequences for ourselves and others, therefore we strive to think globally and start action locally.
Committing Communities
A good community is the cornerstone of the folk high school. The community thrives and grows when the individual, student and staff, commits to the well being of others and the community. It is giving and receiving in balance.
Lifeskills
To thrive in life we need life skills and competences, and knowledge of how to use them. We want students to be able to unfold and master the possibilities of life in balance between self and others.
Equity and Equality
Equity is an important part of the Folk high school DNA. When we do not need to worry about being worthy, we can use our time being there for others. We meet everyone who comes to us without prejudice, with tolerance and respect for each other's differences and see everyone as equal regardless of nationality, social background, gender, abilities, sexual orientation and anything else they might bring.
Presence
We want to give time to be present, create safe and open relations, with room for reflection and just being together. When we are present we can mirror ourselves in each other, and sense that we belong.
Democratic Learning
To us, the foundation of democracy is ownership and trust. This applies to democracy at the folk high school, as it applies to society. It requires respect for minorities and learning skills to engage in dialogue and debate.
Guidelines for life at Nordfyns Højskole
The community at Nordfyns Højskole should be characterized by trust, equity and mutual respect